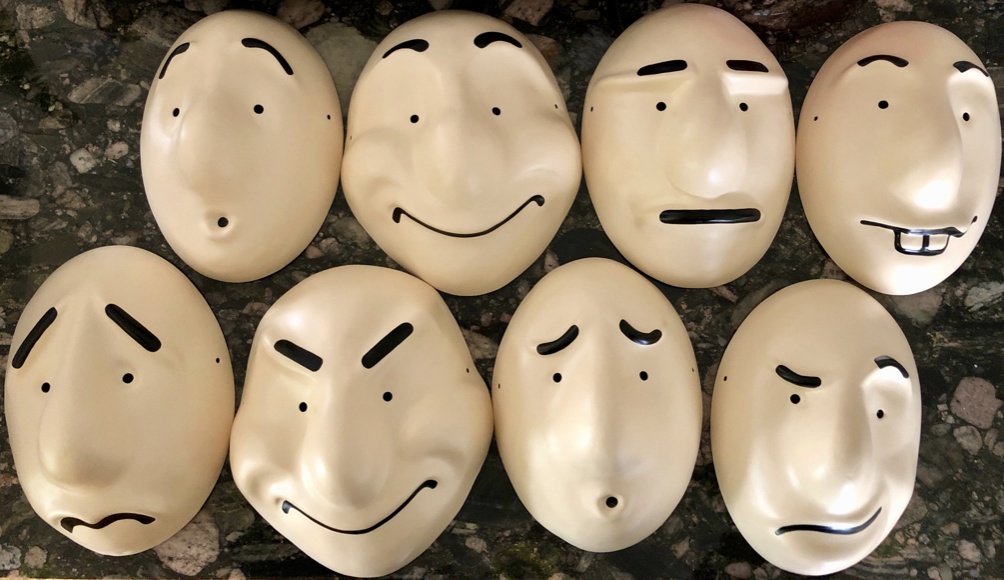 "Masks are empowering: they encourage you to delegate responsibility. They enable you to take risks. They provoke you into working with the reckless logic of a six year oldor the enigmatic stillness of someone wiser than you'll ever be. But above all masks let you be without your habitual limitations."
– John Wright: Playing the Mask: Acting Without Bullshit
Wednesday, May 8, 6:30-8:30pm
Make A Scene Improv will be offering 2-3 workshops on working with full face Trestle Theatre masks to use in improv performance. We will be learning together as I am learning too. The first workshop is an introduction to mask work and it is important to attend if you want to attend other workshops. It will be on Wednesday, May 8, 6:30-8:30 and the cost for each workshop is $5. The prerequisite is solid experience in improvisation and a willingness to try something very different than what you might be used to. I will announce the location who are confirming attendance. Limited to 16 participants. Contact Brad Shimp at bshimp@me.com.
Performances
Make A Scene Improv schedules performances on an irregular basis. Check on Facebook for the next shows: Click here.
Classes and Workshops
Make A Scene Improv offers workshops and classes periodically. If you have an interest in doing improv, expanding your skills as an improviser or actor, or are interested in corporate training contact Brad Shimp at 614-579-6482 to get you started. You may also email him at bshimp@me.com. Brad can point you in the right direction.
NEW TO IMPROV: If you are new to improv there are opportunities to learn the art form. The Nest Theatre offers four levels of classes and are offering them all the time. They also offer a host of electives featuring advanced training in various improv forms. Go to the nesttheatre.com to find out when classes begin.
Jeff Gage offers beginning and advanced "Short Form" improv classes at www.improv-columbus.com. In Jeff's classes you will learn the fundamentals of improv: "Yes, And", building a relationship, being present on stage, and working together to create a scene.